Our next IAH NSW presentation will take place on Tuesday 14th December 2021, and will feature a talk by Professor Bradley Moggridge. The event will be held both virtually via Teams, and on premises at the WSP office in Sydney for those wishing to attend in person. After the talk, IAH NSW will host our famous end-of-year social event to see out 2021, and the start of the December holidays.
Abstract:
This presentation will describe the major findings and recommendations from my paper "Moggridge. 2021. Aboriginal People and Groundwater" within "Springs of the Great Artesian Basin" (Arthington et al., Editors, 2020), a Special Issue of the Proceedings of the Royal Society of Queensland.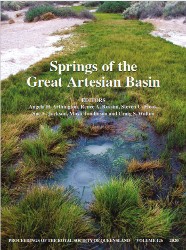 In 2005, I completed a Master's thesis at UTS through the NCGM, unpublished, titled: Aboriginal People and Groundwater, which looked at the relationship in Australia between Aboriginal people and groundwater reviewing: The Dreaming, art and oral history and observations (missionaries, surveyors, explorers etc.) and up to modern day.
Move forward to early in 2020 and an email received with strong encouragement and support to publish my thesis by Prof. Angela Arthington, I could not say no.
Biography:
Associate Professor Bradley Moggridge is a proud Murri from the Kamilaroi Nation living on Ngunnawal Country in Canberra, he is a researcher in Indigenous Water Science (with qualifications in hydrogeology (MSc) and environmental science (BSc)) and part-time PhD candidate at University of Canberra, he was also up until June 2021 the Indigenous Liaison Officer for the Threatened Species Recovery Hub under NESP.
Bradley has won several awards, has presented widely and is on many committees – from local to international adding to his 25years in water and environmental science, cultural science, regulation, water planning and management, including policy development, legislative reviews, applied research and project management. He has been an IAH member for 20 years in the NSW and ACT chapters, he is the current Vice President Australian Freshwater Science Society member of the Wentworth Group, Co-Chair DAWE Committee Aboriginal Water Interests and Member of the Technical Committee Global Alliance for Water Stewardship (AWS) and Member Expert Group (UNECE) Transboundary Water Allocation Handbook 2021. He is current co-lead for Inland Waters Chapter of SOE 2021 and co-lead for Indigenous Engagement with CSIRO and University of Canberra's Flow-MER CEWO Program and Indigenous Lead for the development of the CEWO Flow-MER 2.0 Program.
Bradley hopes to encourage future generations to pursue interests in STEM, promote his ancestors' knowledge of water and mentor emerging Indigenous scientists.