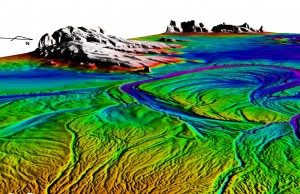 Tuesday, 21 May 2013
5 to to 7 pm
Melbourne Hotel, Perth
Dr Tim Munday and Dr Richard George will speak about the lessons learned from the integrated use of airborne geophysics, ground investigations and modelling in the Ord Valley irrigation Stage 1 and 2 areas.
Abstract: The Ord Irrigation Areas (ORIA) Stage 1 and Stage 2 were flown with a helicopter airborne electromagnetic system in August 2008. These data were then interpreted to provide an insight into spatial characteristics of the alluvial aquifer and groundwater quality of groundwater salinity, primarily to determine salinity hazard and risk associated with current irrigation practice on the Stage 1 area, but also to underpin proposed irrigation developments in the Stage 2 area. In this talk, the role of hydrogeophysical technologies for groundwater and aquifer characterisation in the State's north is discussed along with results from their incorporation in the planning and development of the Goomig – Weaber Farmlands in the ORIA Stage 2 area.
This is a joint event with the International Association of Hydrogeologists (IAH), the Australian Society of Exploration Geologists (ASEG), and Irrigation Australia. Please REGISTER on a separate page to ensure we have sufficient catering and seating.

This event is graciously sponsored by GroundProbe. GroundProbe is the sole Australian supplier of the SkyTEM airborne electromagnetic system.  SkyTEM's unique system design departs significantly from other airborne platforms by combining unrivalled target definition in the near surface zone, particularly the top 50m, as well as supplying the conventional deeper-looking EM capability of up to 500m.  This capability allows SkyTEM to simultaneously provide detailed geotechnical, hydrological and geological information from surface to target depth.
Presenters:
Dr. Tim Munday: Tim is a Senior Research Scientists in CSIRO Earth Science and Resource Engineering. He is currently a Group Leader for the EM Applications Group in that Division and also contributes to research projects involving hydrogeophysical technologies in the Water for a Healthy Country Flagship.
Dr Richard George: Richard is a Principal Research Scientist with the WA Department of Agriculture and Food. In 2010 he led DAFWA's involvement in the State Governments development of the $320 million Ord Stage 2 expansion, with his team undertaking risk assessments, design and support to the environmental State and Federal approvals process.
Contact details: Dr Tim Munday
CSIRO Earth Science and Resource Engineering|
6 Dick Perry Avenue, Kensington, WA 6151, Australia.
Tel: +61 8 6436 8634| Mobile: +61 41 8221 311| Fax: +61 8 6436 8555
Email: Tim.Munday@csiro.au
[ESPRESSO_VENUE id="2″]