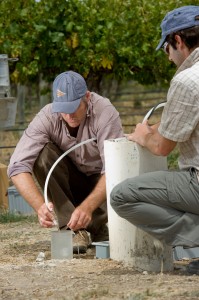 Origin, the NCGRT and Sustainable Minerals Institute are working together to present this internationally renowned course on advanced aquifer testing.
This three-day course incorporates all aspects of devising aquifer pumping tests, and emphasises the connection between pumping test design and different hydrogeological scenarios. It will use AQTESOLV software and be based on common Australian hydrogeologic conditions. This course will provide you with the knowledge to master aquifer testing from beginning to end.
Conducting aquifer tests in complex hydrogeologic settings such as heterogeneous or fractured media is a key element to site characterisation, water resources assessment and remediation system design. However poorly planned aquifer testing programs often lead to suspect data or unanswered questions after the field work is complete. Even when you are confident of the geologic conditions, you may have difficulty designing effective aquifer tests, running field equipment or selecting the best available model to analyse the test data. This course will enable you to improve your approach and skills for aquifer testing.
Gain an advantage and feel more confident by learning up-to-date methods and procedures for designing, conducting and analysing aquifer tests.
Who is presenting?
The course will be delivered by the Midwest GeoSciences Group, a US company which specialises in hydrogeological education and has been made available by Origin.
Ken Bradbury PhD, PG, Applied Hydrogeologist, Senior Scientist at the Wisconsin Geological and Natural History Survey
Glenn Duffield, Hydrogeologist, President of HydroSOLVE, Inc. and developer of AQTESOLV Software
Course Details
Brisbane
1–3 May 2013
Venue: Sustainable Minerals Institute University of Queensland Brisbane, QLD
Course Fees: AU $1980 (incl. Gst)
This includes notes, classroom teaching, tutorials, morning and afternoon teas and lunches.
Attendees are required to bring their own laptop, and are to arrange their own travel and accommodation.
To register click here
To download flyer click here