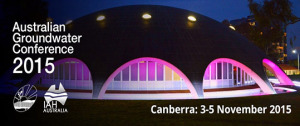 Over 330 groundwater scientists, policy makers and managers will be in attendance, at the Australian Groundwater conference in Canberra next week. Registrations are now fully exhausted and the conference is set to commence on Tuesday 3rd November at the Shine Dome.   Delegates will have access to 200 oral presentations, 40 poster presentations, 3 panel discussions, 14 exhibitors and a myriad of networking opportunities including Networking drinks, Early Career Hydrology Network Trivia night and the BBQ dinner.
The conference will focus on a range of serious issues affecting the nation's largest resource, its subsurface water:
Developing a plan for nationwide underground banking of water in managed aquifers
Ways to return over-allocated groundwater to sustainable levels of extraction
The impact of fracking, coal mining and gas extraction on Australia's groundwater reserves
The role of water banking for preventing water shortages in Australia's cities
The role of groundwater in a successful Murray-Darling Basin plan
The role of groundwater in the future development of Northern Australia
How to licence,  meter and charge for groundwater extraction
The threat from widespread illegal use of bore water
The need to replace and repair old groundwater infrastructure, now almost half a century old and nearing the end of its useful life
The urgency of measuring and monitoring Australia's national groundwater resource.
For more information on the conference media release click here or for more information on the conference in general click here
Delegates are reminded that registrations open at 7:30am Tuesday 3rd November with the conference commencing at 8:20am.
The Abstract Booklets will be provided  on USB at the conference. To view the booklet prior to the conference click here