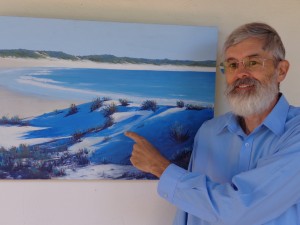 The NCGRT Distinguished Lecturer series is set to tour in April.
This year's distinguished lecturer,  Professor Andrew Boulton will be speaking on integrating river ecology and groundwater linkages.
In recent years, river ecologists have made several significant conceptual advances that have changed the way we view river ecosystems and how they work. In this talk, Andrew will review these conceptual advances and their implications for our understanding of river water – groundwater interactions.
Andrew Boulton is an Adjunt Professor at the University of New England and has worked on river and groundwater ecology for over 25 years in Australia, New Zealand, France and the United States.  He has co-written two textbooks on freshwater ecology and over 120 peer-reviewed papers, some of which have been cited.
Andrew is particularly interested in how recent conceptual advances in ecology can be used to guide wiser management of river ecosystems, especially in the highly variable Australian landscape.
For more information or to register for this free event click here
Tour dates are:
| | | |
| --- | --- | --- |
| April 15 | Sydney | Rm G51, Mining Engineering Building (K14), UNSW Kensington |
| April 17 | Canberra | Fenner Seminar Room, Frank Fenner Building (141) ANU |
| April 18 | Melbourne | SKM Melbourne, 16th Floor, 452 Flinders St, Melbourne |
| April 19 | Perth | CSIRO Floreat, Underwood Avenue, Floreat |
| April 22 | Adelaide | Rm 1 Level 1, Flinders Uni Victoria Square |
| April 24 | Brisbane | Owen J Wordsworth Room, level 12, S Block, QUT Gardens Point |