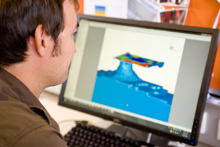 This series is an opportunity for Adelaide's groundwater modellers to come together and discuss a host of issues relevant to consultancies, agencies and researchers.
BEYOND  MODFLOW?
This forum will present examples of modelling applications using a variety of different modelling software packages. Three modellers will each give a 15 minute presentation giving examples of how a specific application of software has solved a groundwater problem, emphasising why they chose that particular model and what advantages this has offered.
PANEL DISCUSSION LED BY PROFESSOR CRAIG SIMMONS
Following the three presentations, attendees will have the opportunity to participate in discussion. A panel, led by Professor Craig Simmons, Director of the NCGRT, and involving the three presenters, will discuss the relative strengths and weaknesses of different modelling approaches and modelling packages.
PRESENTERS
Jarrah Muller, SKM
Modelling open cut pit development in folded banded ion formation (BIF) using FEFLOW
John Kozuskanich, NCGRT
Discretising a discrete fracture model for simulation of solute transport using analytical models and HydroGeoSphere
Maria Pool, NCGRT
A comparison of deterministic and stochastic approaches for calibrating real region aquifers – Mar del Plata aquifer
Date: 4 July 2013
Time: 3.00pm – 5.00pm
Location: Flinders City Campus Room 2.2, Level 2,  182 Victoria Square Adelaide, SA
This forum is free of charge
Tea and coffee will be provided
To register click here
Download Flyer (PDF 2.35MB)